10 RV Organization Tips to Keep Your Space Tidy
---
If you've ever spent any time in an RV, you can probably attest to the fact that it doesn't take very long for clutter to pile up in your rig. It can be hard to organize all of your gear in such a small area, especially if you've packed for an extended journey. Stop messes and clutter before they happen by implementing these 10 RV storage tips to keep your space nice and tidy.
RV Organization Tips
1. Take advantage of the space under cabinets.  
Kitchens can be small in RVs, leaving little room to store everything you need. Hanging storage devices are the perfect solution. From hanging jars to wine glass racks to paper plate dispensers, the space under kitchen cabinets can be used for just about anything.
Don't forget to secure everything hanging before hitting the road!
2. Keep knick-knacks and smaller items tucked away with a shoe organizer.  
Shoe organizers can be used for more than just flip flops and your hiking boots. Utilize the space behind doors with hanging door organizers.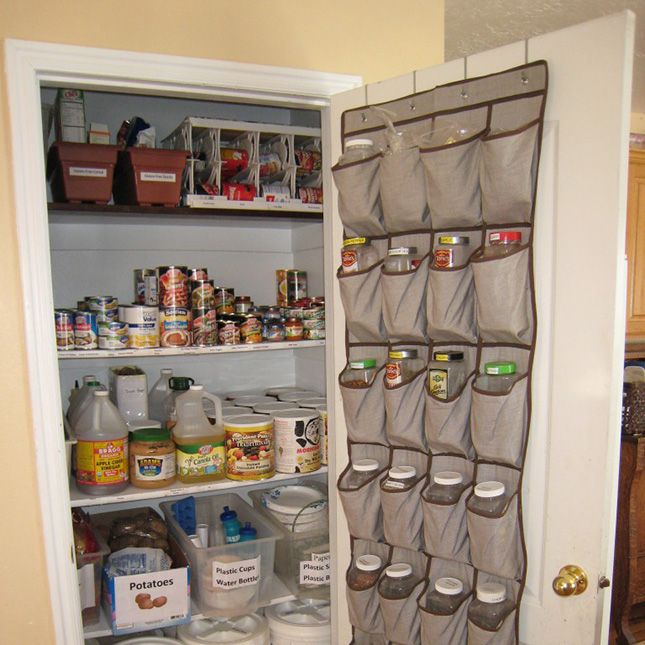 In the bathroom, they can be used to store shampoos, soaps, hair products, make-up, and brushes. For kitchens, they are great for storing large bottles, spices, and more.
3. Glue organizers on the back of cabinet doors.
It's all about utilizing that door space, folks! Cabinet door caddies hold things in place while you travel, make the most of your cabinets, and offer easy access to your items when you open the door.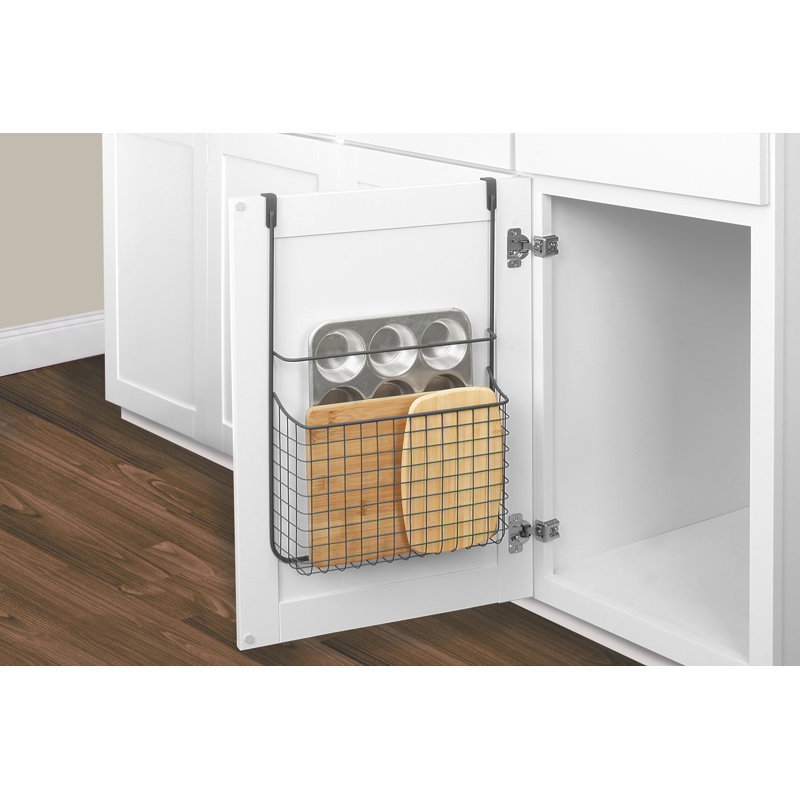 4. Get rid of mix-matched tupperware and bowls, and get a nesting set. 
Oh, the dreaded tupperware cabinet. Nothing is worse than trying to find a matching lid in a sea of mix-matched containers. Save space (and your sanity) by investing in a nice set of nesting tupperware. 
Similarly, large mixing bowls, measuring cups, and measuring spoons can all take up space and get in the way.
5. Mount your spice rack to the wall.
Again, counter and cabinet space is limited in RVs, leaving little room for all of your favorite spices. Luckily, there are tons of spice rack solutions, from hanging containers to cabinet organizers. But since you're already (hopefully) utilizing the space under your cabinets, wall-mounted racks will be your best bet.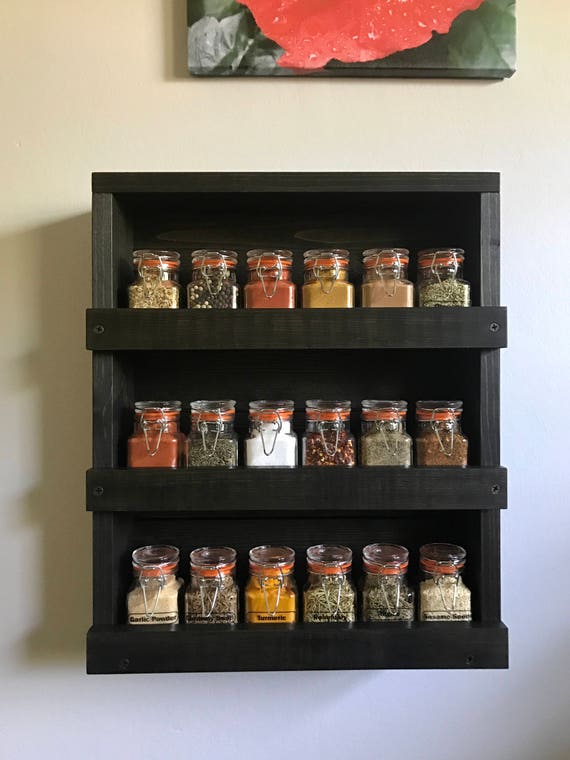 6. Use a flashlight mount to keep your flashlights next to the door.
Ever lose track of your flashlight when you need it most? Keep it handy by the door or by the bed by mounting a bracket or special design to the wall. Purchase a set of flashlights that fit, clip them in, and you'll never have to worry about feeling around in the dark for light again!
Some flashlights come with wall mounts that allow your lights to charge while they hang.
7. Dry and keep dishes handy with an over-the-sink rack. 
Let your dishes dry over the sink with an adjustable rack. These racks let you utilize otherwise unusable space and neatly store other kitchen objects such as sponges, dish soap, and more.
8. Invest in a desk lamp that doubles as an organizer caddy.
Have a workspace area in your RV? Invest in a lamp that has multiple purposes and can organize the little office supplies you may have lying around. Some even have an additional charging outlet for your phone or tablet.
9. Utilize slide-out drawers under your RV table. 
You can even use the space under your kitchen table for storage. Simply stick slim profile drawers to the bottom.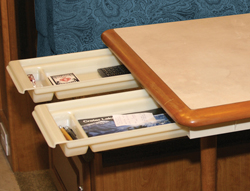 10. Tidy up all of your cables and chargers with an electronics organizer.
Chargers and cables can get messy quickly, especially if you have more than a few gadgets. When not using the cords, store them away in a convenient organizer.
If you use them frequently, consider setting up a charging station that keeps the wires wrangled. Plus, you'll have a dedicated charging area.
Stay Organized and Hit the Road
There's nothing better than coming back to a nice and tidy RV after a long day of exploring. In general, look for unutilized space and ask yourself if it can serve a better purpose. There are all sorts of gadgets out there on the internet, and you may be surprised what you can come up with when you use a little creativity. 
Make Money
Renting your RV
Outdoorsy RV owners make up to $32,000 a year renting their RVs.
List Your RV
Find Your
Perfect RV
Your next adventure starts here by searching thousands of available RVs for rent.
Search Now